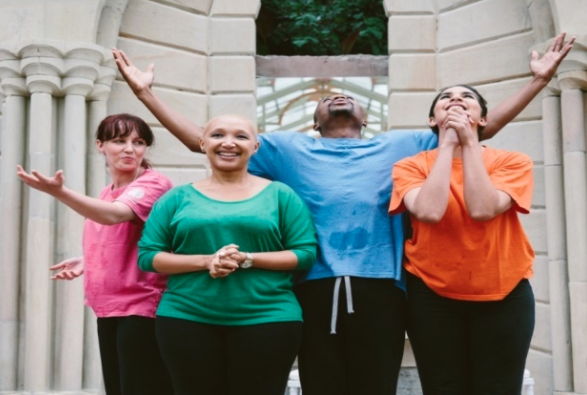 Drama for Life Presents Short Course Programme 2017: Introduction to Playback Theatre University of the Witwatersrand certificate of competence
24, 25, 26 November and 01, 02, 03 December 2017
Times Friday 10h00 – 17h00, Saturday 09h00 – 17h00, Sunday 09h00 – 15h00 Friday 10h00 – 17h00, Saturday 09h00 – 17h00, Sunday 09h00 – 15h00
Venues Drama for Life, 17 Floor University Corner, Johannesburg.
Drama for Life, based at the University of the Witwatersrand, is an arts centre for social transformation and healing. Drama for Life is the only accredited training in Africa for Playback.
About the course
The Introduction to Playback Theatre short course provides a certificate equivalent to the Centre for Playback Theatre's "core course" in Playback Theatre. The course establishes a foundation in the Playback model. This course will introduce students to the core principles of Playback Theatre, its functions and history. The course will teach participants the basic skills of performance in Playback Theatre. The course will introduce concepts such as ensemble and group dynamics, exploring how these concepts contribute to an effective playback performance. Students will learn core forms such as 'fluid sculptures', 'pairs', 'v-narrative', 'corridors' and 'long stories' and frames the appropriate use of ritual in Playback Theatre. This short course is certified by Drama for Life, University of the Witwatersrand in the capacity approved by the Centre for Playback Theatre.
This course is taught by Taryn Lee and Cherae Halley. Lee and Halley are the only playback theatre practitioners based in Africa with the Leadership qualification in Playback Theatre which allows them to teach playback theatre courses.
Cost: R 3000 Admission Requirement: A matric certificate and experience in the arts and/or community work.
Please submit your CV and expression of interest to: Jacqlyne.titus@wits.ac.za
Application Deadline 13 November 2017
TRAINERS
Tarryn Lee recently returned from Brazil after completing the diploma, Playback Leadership, through the Centre of Playback Theatre based in New York. She is a founding member of the Drama for Life Playback Theatre Company, established in 2008, and is currently the company's co-director. As a Playback performer, Lee has developed an interest in the practice of Playback and the innovative medium of theatre as a tool for social change and human connection. Lee recently completed her Masters by Research degree at the University of the Witwatersrand, focusing on the cross-disciplinary exploration of theatre-making and public health through performance as research, and obtained a distinction for her Masters project.
Cherae Halley is the co- director of Drama for Life Playback Theatre. She is a playback theatre leadership graduate and a Drama for Life alumni. Halley has worked in various spaces as an applied drama practitioner, she specialises in training around HIV/AIDS, diversity and education. She has experience working with LGBTI and Deaf communities. Cherae has held a number of scholarships from MACAIDS foundation, CORDAID, CREA in which her learning of Gender, Sexuality, Human Rights, Feminism, Peace and Security and HIV/AIDS has further been developed. Currently Cherae is a Drama for Life staff member.
This is the first of the Playback Theatre short courses running; Advance Training in Playback Theatre Short Course will follow in 2018.
For further information email the Project Directors Tarryn Lee on tarrynelee@gmail.com or Cherae Halley on cherae.halley@wits.ac.za
About Drama for Life
Drama for Life is dedicated to transforming arts, culture and heritage research, education and practice in Africa. Our commitment toward South Africa is found in our academic, short course and community engagement programmes and projects throughout the country. This commitment is embedded in a belief that the performing arts have the ability to give voice , respect and dignity to all who live in our country. It is the arts that enable us to imagine new narratives and to experience a new consciousness.