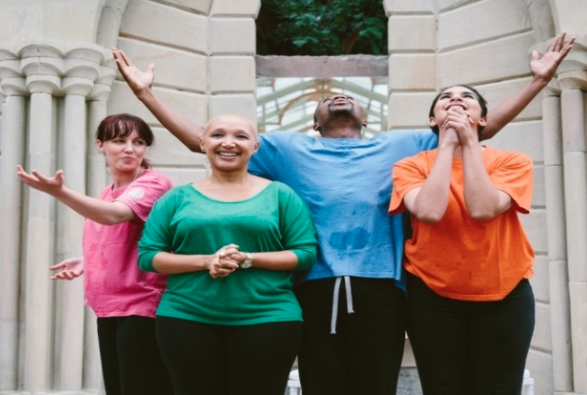 Drama for Life
Short Course Programme 2018: Introduction to Playback Theatre
University of the Witwatersrand certificate of competence
2 – 4 and 9 – 11 March 2018

Times
Friday 10h00 – 17h00, Saturday 09h00 – 17h00, Sunday 09h00 – 15h00
Friday 10h00 – 17h00, Saturday 09h00 – 17h00, Sunday 09h00 – 15h00

Venues
Drama for Life, 17th Floor University Corner, Johannesburg.
Drama for Life, based at the University of the Witwatersrand, is an arts centre for social transformation and healing. Drama for Life is the only accredited training in Africa for Playback.
About the course
The Introduction to Playback Theatre short course provides a certificate equivalent to the Centre for Playback Theatre's "core course" in Playback Theatre. The course establishes a foundation in the Playback model. This course will introduce students to the core principles of Playback Theatre, its functions and history. The course will teach participants the basic skills of performance in Playback Theatre. The course will introduce concepts such as ensemble and group dynamics, exploring how these concepts contribute to an effective playback performance. Students will learn core forms such as 'fluid sculptures', 'pairs', 'v-narrative', 'corridors' and 'long stories' and frames the appropriate use of ritual in Playback Theatre. This short course is certified by Drama for Life, University of the Witwatersrand in the capacity approved by the Centre for Playback Theatre.
This course is taught by Taryn Lee and Cherae Halley. Lee and Halley are the only playback theatre practitioners based in Africa with the Leadership qualification in Playback Theatre which allows them to teach playback theatre courses.
Cost: R 3000
Admission Requirement: A matric certificate and experience in the arts and/or community work.
Please submit your CV and expression of interest to: Jacqlyne.titus@wits.ac.zatarrynelee@gmail.com and Cherae Halley on cherae.halley@wits.ac.zaDrama for Life is dedicated to transforming arts, culture and heritage research, education and practice in Africa. Our commitment toward South Africa is found in our academic, short course and community engagement programmes and projects throughout the country. This commitment is embedded in a belief that the performing arts have the ability to give voice , respect and dignity to all who live in our country. It is the arts that enable us to imagine new narratives and to experience a new consciousness.