In addition to the two-week programme, the Dance Umbrella will host a series of Master Classes in partnership with Drama for Life eMakhaya Theatre, 19th Floor University Corner, corner of Bertha and Jorissen Streets in Braamfotein.
7 March: Dance and Culture (12h00 – 13h30) | Conversation with Vincent Mantsoe and Gregory Maqoma facilitated by Warren Nebe. In South Africa, where dance holds a particular place in history and socio-cultural identity, the significant lack of support in building communities, practitioners and the profession within the dance industry has been severely criticised. The argument is that while the spectrum of dance forms allow for inclusivity and individual expression of identity, there is limited support, resources, and space for this diversity. In response, this conversation questions the implication on rights to access, experience and engage with traditions and cultures of dance. This conversation aims to explore the contradictory circumstances of arts and culture in South Africa through the concerns and criticisms of the dance industry; asking: how do we create more space, access and resources for the retention and sustainability of this important art form?
9 March: Dance - Local and Global (12h00 – 13h30) | Conversation with Moya Michael and Steven Cohen facilitated by Nodumiso Msimanga. Performing arts festivals, like the Dance Umbrella, seek to promote contemporary dance; showcase the work of national and international artists; introduce innovative forms of dance; and build capacity in the industry through training workshops, conversations and the programmed work. Questioning the space for development and practice of the profession, both locally and abroad, this conversation considers the exodus of South African performers to places where their work appears better valued and more opportunities to grow and sustain their careers are afforded. It asks: what does this mean for the enhancement of the discipline from a local perspective?
10 March: Dance as Activism (12h00 – 13h30) | Conversation with Gerard Bester and Alan Parker facilitated by Lireko Qhobela. Looking at the increasing value being placed on site-specific, participatory performance and experiential, experimental and innovative work with communities and across disciplines; this conversation considers the benefits and challenges of developing dance in alternative spaces. Reflecting on existing and emerging performance art, it raises questions around the value of alternative approaches and spaces for dance in our context, asking: what opportunities do such methods of creative expression and artistic excellence offer for continued and sustainable development in the sector?
12 March: Dance in Contemporary Society (12h00 – 13h30) | Conversation with Robyn Orlin and Fana Tshabalala facilitated by Kwanele Finch Thusi. Over the past 30 years, the Dance Umbrella has provided young, innovative and contemporary dancers a platform to present their work, and a critical opportunity to launch their professional careers. More often, however, in the global landscape we are seeing dance practitioners explore alternative art spaces and professional practices, expanding dance into and across various disciplines. This conversation explores new histories that are being shaped through the innovative integration of dance, multimedia, education, and community based performance. It asks whether the South African dance industry has fully recognised and considered the opportunity of interdisciplinary collaboration for the enhancement of perspectives and expressions of local and international issues of relevance in society.
14 March: Dance Industry and Festivals (14h00 – 15h30) | Conversation with Musa Hlatshwayo and Louise Coetzer facilitated by Dr Ricardo Peach. This conversation intends to reflect on and review the position, sustainability and future of performing arts festivals such as the Dance Umbrella, which has run annually for the past thirty years in South Africa. With the increasingly challenging economic climate, indiscriminate political agenda and the growth of a globalised culture, the lack of local support for festivals of this nature is increasingly concerning. Considering this reality, this conversation questions the significance and contribution of the festival to South Africa's dance industry, society and national policy drivers; and the implication of current realities for the continued advancement of and investment in the dance industry.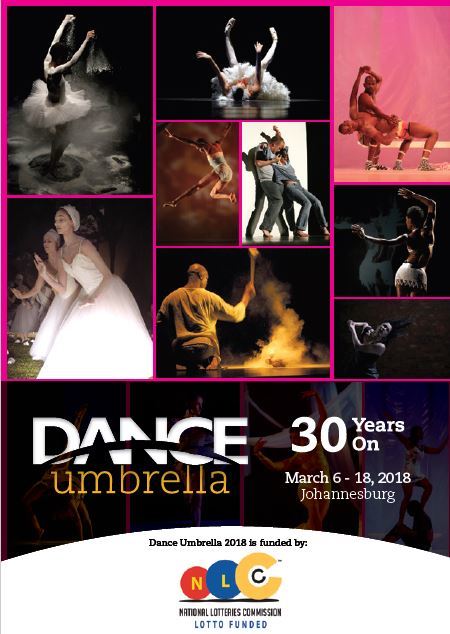 To book a place for the Face to Face Conversations, please email Winnie.Ansah@wits.ac.za
For the full programme go to www.danceforumsouthafrica.co.za
Dance Umbrella 2018 is funded by the National Lotteries Commission. Other partners include Creative Feel Magazine; National Arts Council; the French Institut South Africa; Goethe-Institut Johannesburg; Swiss Arts Council Pro Helvetia; Splitbeam; Drama for Life and Business and Arts South Africa.
Tickets for Dance Umbrella 2018 range from R50.00 to R150.00, book at www.webtickets.co.za.