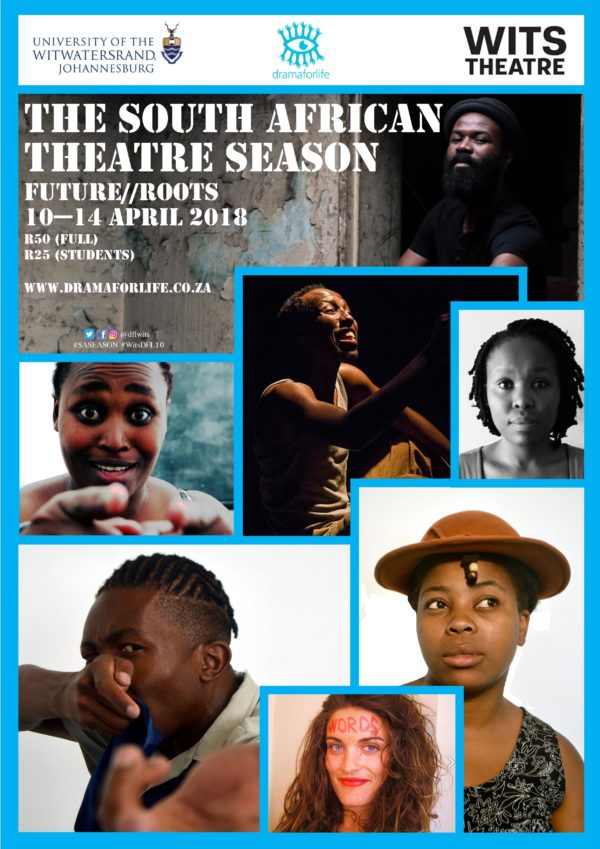 The 2018 South African Theatre Season runs under the theme, Future Roots: Young, gifted and Black from 11 to 14 April in the Drama for Life eMakhaya Theatre, 19th Floor University Corner and the adjacent Wits Theatre.

R50 general tickets per show | R25 student discount | Open Workshops | Programme at the end of article
Future Roots: Young, gifted and Black seeks to spark and grow the creative and entrepreneurial capacity of the young independent Artists. The Season's structural focus enforces not only the creation and offering of a platform for young independent artists to perform but also offers workshops and Conversations (Arts in Conversations) aimed at stimulating and probing the creative economy through a youth centred approach.
The SA Season will feature Rehearse//Reveal, a Drama for Life Creative Research Hub initiative that offers a platform for student artists to create new work and manage performance spaces. The 2018 Rehearse\\ Reveal Showcase presents short pieces around the idea of Future Roots from a diverse group of students and Drama for Life alumina. Rehearse//Reveal productions will be clearly marked in the SA Season programme and proceeds from ticket sales go toward production costs and artist fees. Come support, spot new talent, and above all enjoy!

The South African Theatre Season strongly believes young creatives are best suited to tackle the challenges of the 21st century South Africa. We challenge our young creatives to take on the challenge and own this important sector; freeing young makers of the chains of government and donor funding is an important step in creating a resilient and self-sustaining arts industry. Who better to dream and action a future for South Africa than its young artists?
For bookings and more info, please email: Benjamin.Bell@wits.ac.za
PROGRAMME: SA Season and Rehearse Reveal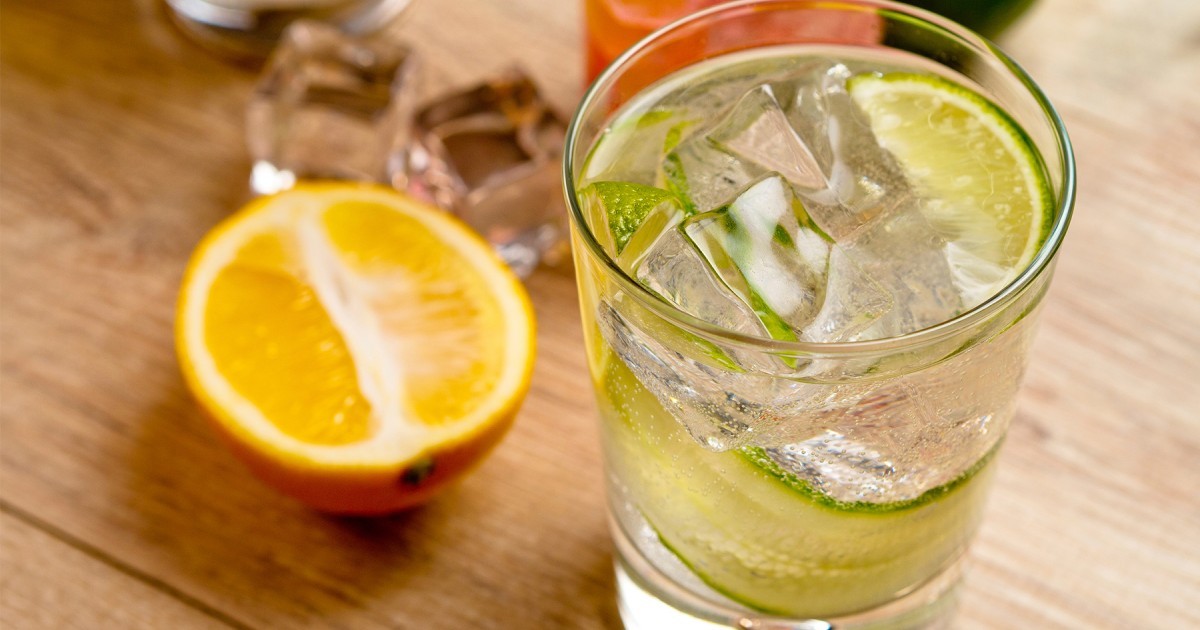 Daily Tonics | 11 - 14 April, 18:10 | Wits Theatre foyer | Free
Relax and unwind from your busy day with some music, poetry and stand-up comedy while you wait for the next show to start.
Brought to you by the Drama for Life Theatre Company presents Daily Tonics.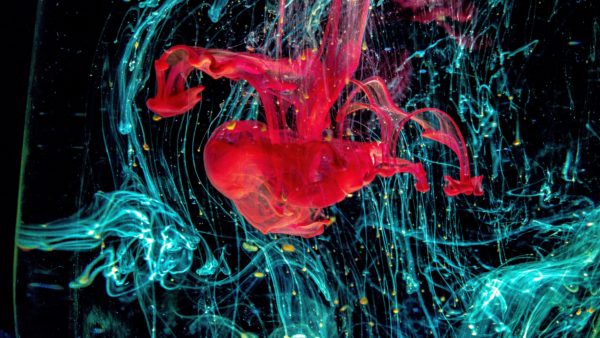 GOMORA | 11 April, 13:15 and 13 April, 19:00 | Wits Amphitheatre | R50 - Students R25
Age restriction: 16+
If history could be written from the eyes of nature, could it be written the same as human perspective?
Written and performed by: Mlindeli Emmanuel Zondi | Directed by: Tsholofelo Pauline Mmbi | Live music by: Prince Shapiro and Lerato Sefoloshi
CORNER BREE & ELOFF | 11 April, 20:15 and 14 April, 14:00 | Wits Downstairs Theatre
R50 - Students R25
Corner Bree & Eloff follows the character of Zondi, a homeless man who has lost every-thing roaming the cut-throat streets of Johannesburg. "Glue" transports him to different places, at times he finds himself at the doorsteps of heaven confronting God and the Angels, and the next minute he is in parliament, as an honourable member of the house arguing motions.
Written and directed by: Nelsen Mokoena | Performed by: Thulani Mtsweni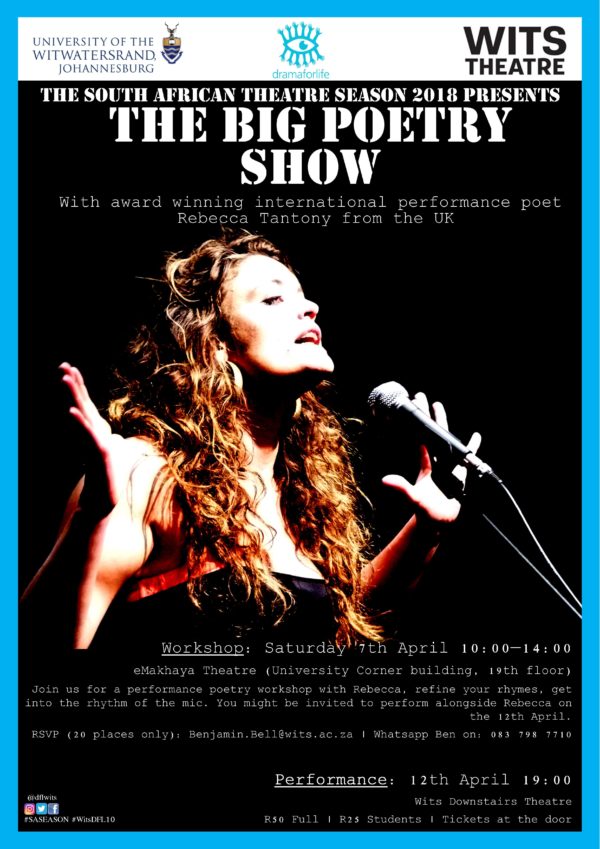 The BIG Poetry Show | 12 April, 19:00 |Wits Downstairs Theatre | R50 - Students R25
A product of an open workshop held in collaboration with Drama for Life and internationally acclaimed performance poet Rebecca Tantony. Selected participants will perform alongside Rebecca exploring memory through the senses and voicing their personal and collective identities though poetry.
Created in collaboration with Rebecca Tantony, Ben Bell and Local Poets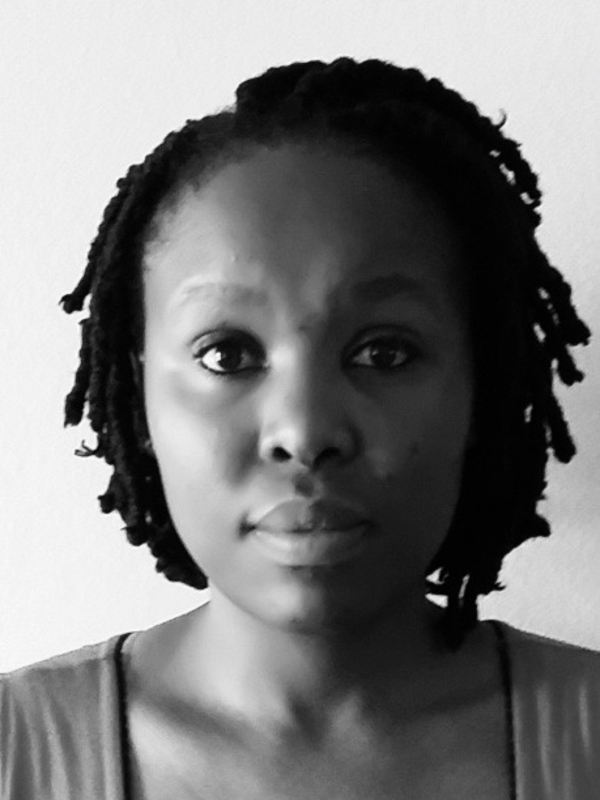 SNATCHED | 13 April, 13:15| Wits Downstairs Theatre | R50 - Students R25

An exploration of issues surrounding black femininity; the staging of internal struggles and a showcase of the physical body wrestling with masculinity.
Created and performed by: Khutjo Green and Andisiwe "Ands" Mpinda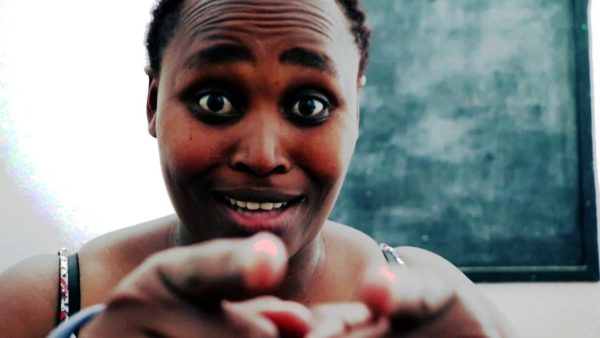 In My Mother's Womb | 13 April, 18:30 and 14 April, 15:30 | eMakhaya Theatre
R50 - Students R25
An evocative story of resilience, spirituality and hope. The play offers an intimate look into what it is like to live with blindness.
The production is in collaboration with Tswelopele Frail Care Centre and the Johannesburg Society for the Blind.
Directed by: Gcebile Dlamini | Choreographed by: Sibusiso Hadebe | Dramaturge: Paul Noko | Stage Manager: Thabang Kolberg
TSWALO |14 April, 12:00 | Wits Amphitheatre
From the multi award-winning theatre duo comes Tswalo, a celebration of the art of solo performance, a tale told through poetry and physical storytelling entwining to interrogate the rules that govern life on earth, such as power, creation, politics, connection, and intuition – the performer's expression of his 'source'. The work undoubtedly begs the question (or theory) of being, becoming and unbecoming.
Written and Performed by: Billy Langa | Directed and designed by: Mahlatsi Mokgonyana | Sound Design by: John Withers