Biographies
Warren Nebe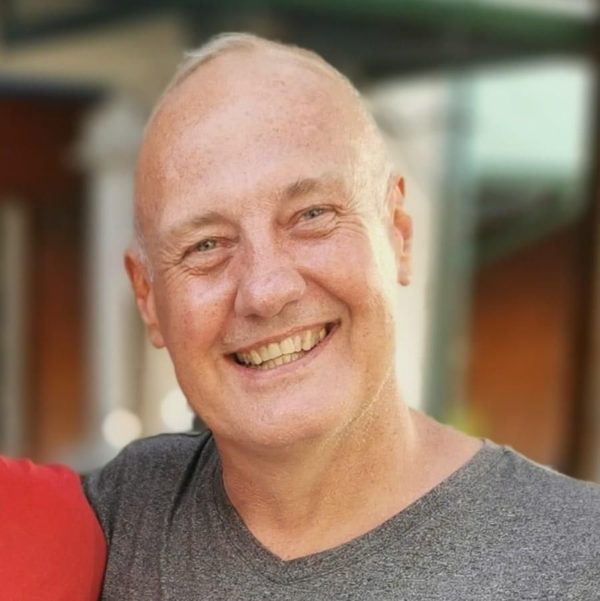 Warren Nebe, a former TEDx speaker for Wits University, is the founder and former director and head of Drama for Life, a department of Applied Arts, Arts Therapies and Arts Research dedicated to social transformation and healing at the Wits School of Arts, University of the Witwatersrand. He is a theatre director, a playwright, a senior lecturer, a HPCSA and NADT registered drama therapist, a psychodramatist, an accredited Listening Hour Guide and Trainer, a Playback Practitioner, a Theatre of the Oppressed Practitioner, a Fulbright Scholar and Salzburg Global Fellow.

Warren, as Head of Drama at Botswana's internationally renowned Maru-a-Pula School, development a comprehensive, intersectional academic, extra-curricular, community-based and professional drama, theatre and performance programme. Apart from directing a number of successful productions, including Godspell, Sophiatown, Nobody's Fool, The Importance of Being Earnest and Woza Albert!, his successes included the recognition of outstanding Cambridge University Drama results, the founding of the professional Company@Maitisong in Botswana where he co-created and directed My Brother's Bones and Sephiri se Dule staged for Botswana's Maitisong Festival and South Africa's National Arts Festival. He was also instrumental in setting up Project Phakama in Botswana and mentored several theatre groups, including Mama Theatre, from surrounding villages and in the city.
He is currently the artistic director of the Drama for Life Theatre Company supported by the Charlize Theron Africa Outreach Project (CTAOP). His performance research has focused on identity construction, representation and memory in South Africa through an auto-ethnographic theatre-making approach. Performing identity, memory, and hope weave through Warren's directorial performance collaborations in ID Pending, Hayani, Through Positive Eyes, Morwa: The Rising Son, AfriQueer: how the stars were made: iterations 1 to 11, Mainane!, and When Things Fall Together. Warren's directorial debut Kwanele with the Nyanga Theatre Group for the Baxter Theatre in 1987 was banned by the South African Apartheid security police. Cast members and Warren were interrogated by security police, some confined to imprisonment without trial, while the movement of others was monitored.
Warren also directed and facilitated the ground-breaking Wolfboy with writer Alison Moultrie and Quantum Company members, Wayne Harrison, Adam Pike, Richard Moultrie and irene Stephanou.
Hayani and Through Positive Eyes collectively received 8 South African Theatre Award nominations for the 2013 season, including Best Cutting Edge/Ensemble productions. Hayani was awarded Naledi Best New South African play for 2013. Morwa: The Rising Son received the National Arts Festival Silver Standing Ovation Award in 2015. AfriQueer: how the stars were made, iterations 1 to 11 was awarded the National Arts Festival Adelaide Tambo Award for Human Rights in 2016.
Warren began his therapeutic career at the William Slater Psychiatric Centre for Adolescents and Young Adults under the leadership of Dr. Ray Berard from the University of Cape Town. He has worked extensively as a Clinical Arts Therapist in Acute Dual Diagnosis Psychiatric Care at Interfaith Medical Centre, Brooklyn and St.Luke's Hospital, Milieu Therapy for Adolescents, Columbia University in New York. He worked as an Addictions Therapist for Kenilworth Place – Addiction Treatment Centre for Adults, and as an Arts Therapist for Kenilworth Psychiatric Centre for Adolescents and Young Adults in Cape Town. He has also worked as a Drama Therapist and School Counselor for Zonnebloem NEST School in Cape Town.
Warren's primary research focus has been on the development of a progressive 'living pedagogy' at Drama for Life, a critical reflexive praxis embedded in a human rights and social justice discourse for the Applied Arts, Arts Therapies and Arts Research in Africa in the 21st century. Warren, having taught many of the existing courses at Drama for Life, has been responsible for the facilitation of the development and implementation of the extensive postgraduate programme for Drama for Life. The Drama for Life academic programme includes; PGDA in Applied Drama and Theatre with a focus on Live Performance as Social Life; Honours in Applied Drama and Theatre with a focus on Theatre of the Oppressed and Process Drama; Honours in Drama Therapy; Masters in Applied Drama: Theatre in Education, Communities and Social Contexts; HPCSA accredited Masters in Drama Therapy with a focus on an Integrated Approach to Drama Therapy; Masters in Performance as Research, and a PhD programme. The department's intersectional and interdisciplinary academic programme is rooted in theory, practice, town halls, visual and performing arts, arts in health, a recovery programme, modelling of 'best practice' research projects, and on-going fieldwork, placements and internships in schools, community centres, arts centres, clinics, hospitals, rehabilitation centres, orphanages, and homes for the elderly.
Warren has been responsible for, together with the support of Drama for Life staff, raising well over R40 million in grants toward student scholarships and bursaries, conferences and festivals, creative research and community engagement projects in the last decade.
Warren is the previous Head of the Department of Theatre and Performance, formerly known as the Department of Dramatic Art at the Wits School of Arts, University of the Witwatersrand. He led the Department while simultaneously innovating Drama for Life as a research project in its early stages. During this time, Warren was also the Managing Director of Themba Interactive – a NPO dedicated to the fight against the HIV and AIDS pandemic in Southern Africa through theatre.
While leading the Theatre and Performance Department, Warren facilitated the reimagination of the curriculum and taught in many of its courses. This included teaching Performance Studies, Theatre Directing, and Theatre history courses across the four year undergraduate degree. His work in Performance Studies included the innovation of a course called Transformations that integrated elements of Richard Schechner's Performance Workshop, Ann Bogart's View Points, Barney Simon's Workshop Theatre, and Warren's own work in theatre-making, storytelling and autobiographical and classical text site-specific explorations. Warren also directed the New York University, Tisch School of Arts and University of the Witwatersrand, Wits School of Arts partner programme for several years. His workshop production of Crocodile Tears for this partnership explored the traumatic impact of the post-9/11 and post-Apartheid realities upon the feminine psyche.
As a member of the Apartheid Archives research team, Warren curated the SA Theatre Season in 2009, Honouring the Archive: Theatre, Memory and Social Justice, and again in 2010, entitled: SA Theatre Season: The Personal Archive: Diversity in Conversation. Warren has either chaired or co-chaired and curated the annual international Drama for Life Conference and Festival since inception in 2008.
Warren was awarded the Vice-Chancellor Award for Transformation (Individual) in 2013, and the Drama for Life Staff were awarded the Vice-Chancellor Award for Academic Citizenship (Team) for 2014.
Warren has more recently engaged with creative research pertaining to early childhood development and the role of theatre. He has directed the new play Mainane! for children aged between 10 and 12 years old with the Drama for Life Theatre Company in partnership with the Charlize Theron Africa Outreach Project. As part of his final outgoing HOD responsibilities, he chaired and curated the 11th Drama for Life Conference and Festival, Transforming Arts/Transforming Lives: Creating a Child-Centred Society in partnership with the NRF Centre of Excellence in Human Development, the Embassy of Sweden and the highly acclaimed Swedish National Theatre for Children, Unga Klara. Warren participated in the Unga Klara and Drama for Life Writing for Children in and through Theatre Workshop. Through writing mentorship, he has written a new play called lockdown for children and families about gun violence, loss and grief. The play is now in rehearsal for a series of play readings for New York, Stockholm and Johannesburg audiences.
In response to Covid, Warren worked with his ensemble The Healers, a radical improvisation theatre for on-line audiences that integrates playback theatre, psychodrama and storytelling strategies and approaches. They have performed online for several local and international gatherings, including a #blacklivesmatter New York and South Africa community of artists. Through the innovation of storytelling online, he directed the Drama for Life Theatre Company in a series of Storytime! performances for children aged 6 to 9 years old. Warren has also just completed the first phase of an extensive site-specific live performance art ritual called When Things Fall Together about the intersection of Covid, ecocide and the George Floyd murder.
Warren is the founding Executive Board Member and Regional Director for Africa for the International Association for Creative Arts Education and Therapies (IACAET). He is the Artistic Director for the Drama for Life Theatre Company, and he continues to teach for Wits School of Arts and the Wits School of Education.
He co-edited Drama for Life: Innovations in Applied Theatre Contexts in Africa published by Cambridge Scholars Press for release in January, 2022, and his new play lockdown published by Junkets Publisher will be released in February, 2022. Lockdown will also premiere at the Voices International Theatre Festival presented by the Jersey City Theatre Centre in the USA on 12th February, 2022.