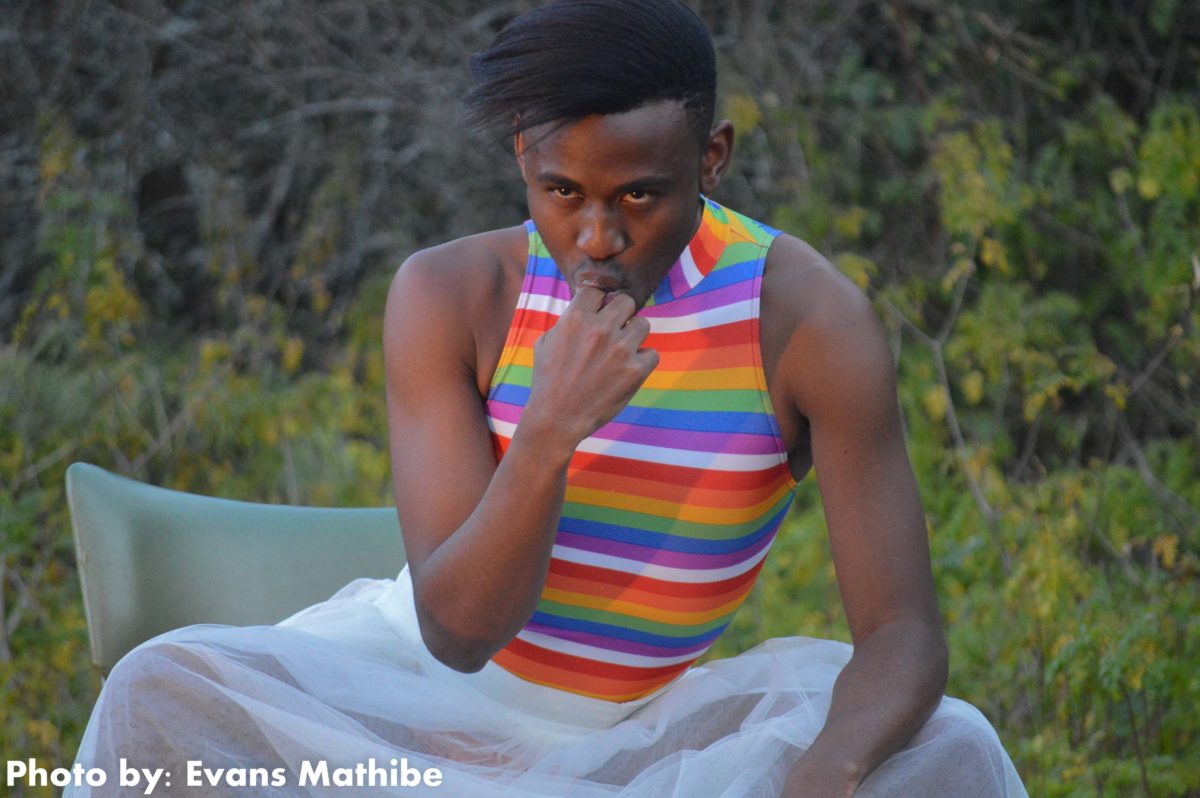 Drama for Life is proud to announce the 2017 international tour of site-specific
performance project AfriQueer, created by Drama for Life AFRICA Project, written by Tlotlego Gaogakwe and directed by Warren Nebe. This acclaimed site-specific showing, which celebrates LGBTIQ human rights and is based on an ancient creation myth of how the stars were made, will initially tour South Africa, The Netherlands, Ghana and Mozambique.

Drama for Life AFRICA Project will present iterations of this new, groundbreaking, site-specific performance across Africa and in Europe from 21st September this year. This brave, original work opens up a space for reflection, compassion and understanding of and for queer identities, and adds to the already sounded clarion call for a human rights and social justice based approach to LGBTIQ.
In collaboration with the Goethe-Institut, the iterations in Ghana and Mozambique will see local performance artists in those countries collaborating with AfriQueer's Company to create site-specific performances that witness and celebrate the endurance of the human spirit.

Walk through the sleepy village of Liati Wote to Mount Afadja. There you are certain to encounter a man standing at the base of the verdant mountain. Stillness is in the air – not even the birds sound their usual call.
He stands without any robes, you can see all his being; the ribbon veins of his taut, naked muscle pulse-wrap his entire coal body. He is a man from many men.
What is it that he looks to?
Should you be brave enough to reach out and touch him, perhaps to shake him or
yourself from this seeming dream, you will feel the sturdiness of his body and the call to live, free.
His unmoving eyes look up to the peak of the mountain, longing for something you are not able to see. A morning wind rustles the trees. He remains silent, motionless like the mountain he stands before.
His feet dig deeper into the red clay mud as he waits to hear the trumpeting of the bones of his ancestors call and reach for him from the peak.
And you, you will remain there beside him, a silent witness to the revival of the ancient, forgotten magic of bone and clay. This is AfriQueer.
AfriQueer was launched two years ago and has already performed iterations in Mozambique, Botswana and in South Africa at the National Arts Festival where the work was awarded the Adelaide Tambo Award for Human Rights in 2016.
AfriQueer is a dreamscape, a queer meditation on masculinities. Audiences are invited to embark on a ritualistic journey with the performers through a natural space/environment. The witnessing participants will encounter evocative images, physical theatre, traditional healing dances, mystical characters and a poetic and enigmatic wolf-like narrator who evokes memories of love, passion and grief. These theatrical moments are devised to elicit a sensory experience, an emotional trajectory, and a subtle questioning of what it is/not to be a so-called 'man'. More importantly, the work speaks back to the redeeming possibilities of love.
The voyage is framed by the poetic narrative of an ancient San creative myth that tells of how the stars were made by two lovers who lose themselves in a maze of
circumstance. Except in AfriQueer's version, written by the talented Tlotlego
Gaogakwe from Botswana, in contemporary, queer terms the lovers are two men. The audience is challenged to look, witness, and contemplate masculinities, sexualities and relationships differently - in open, non-judgmental and non-prescriptive ways.
AfriQueer, originally conceived by Warren Nebe and the Drama for Life AFRICA Project, brings together a group of talented performing artists who each make a unique contribution toward the curated work. The artists, directed by Warren Nebe, include Tefo Paya, Songezo Mcilizeli, Kwanele Finch Thusi, Hamish Neill, Sthe Khali, and Bonginkosi Mnisi. They all bring their own artistic signatures to the site-specific performance.
"We are incredibly excited to be doing this work in and across Africa. It's time men were brave enough to contemplate what it means to be a man and what it means to love another man," exclaims performer Sthe Khali.
"AfriQueer is a memorial to the suffering of Queer men, particularly African men living on this continent and those who have had to flee to other continents in order to survive," explains writer Tlotlego Gaogakwe.
Warren Nebe, acclaimed director and collaborative theatre-maker, says that "the work has been a powerful drawing together of men at a time when men have needed to reflect on their own complicity in the cycles of violence perpetuated by men; men of culture and tradition, men of the church, men of the body politic, and men of history/ies."
He concludes, "Our unnatural fear of queer is our unconscious acceptance of what we have inherited from our fathers and the fathers who came before them."
AfriQueer includes performances on the 21st and 22nd September, as part of the Drama for Life Sex Actually Festival, at Zoo Lake in Johannesburg from 8.30 pm. Audiences will meet at the entrance of Moyo's. Sex Actually is organised in partnership with the Swiss Agency for Development and Cooperation.
The company will then perform in the Netherlands as part of the main AfroVibes Festival from 27th September to 9th October in Amsterdam and Rotterdam. The production will then be based in Maputo, Mozambique from 3rd to the 10th November. This performance iteration will include new company members drawn from leading performers in Mozambique. AfriQueer will then move to Accra, Ghana from 26th November where a new version of How the Stars Were Made will be created and performed as a collaboration between the original company and 3 artists from Ghana. The tour iterations in Ghana and Mozambique are organised in partnership with the Goethe-Institut.
AfriQueer is made possible by the generous support from the Swiss Agency for
Development Corporation (SDC), the Goethe-Institut, Drama for Life at University of the Witwatersrand and AfroVibes.
AfriQueer Dates
1. Johannesburg, South Africa
Thursday 21 September 2017, 20.30 - 21.30 at Zoo lake
Friday 22 September 2017, 13.15 - 14.15 at West Campus and 20.30 - 21.30 at Zoo Lake
2. Amsterdam, The Netherlands

Friday 29 September 2017, 19.00 at Tolhuistuin (Tuin and on-site), Amsterdam
Saturday 30 September 2017, 19.00 at Tolhuistuin (Tuin and on-site), Amsterdam
Sunday 1 October 2017, 19.00 at Tolhuistuin (Tuin and on-site), Amsterdam
3. Rotterdam, The Netherlands

Saturday 7 October 2017, 16.00 at Maaspodium (on-site), Rotterdam
Saturday 7 October 2017, 19.00 at Maaspodium (on-site) Rotterdam
Sunday 8 October 2017, 16.00 at Maaspodium (on-site), Rotterdam
4. Maputo, Mozambique
Friday 10 November 2017
Saturday 11 November 2017
5. Accra, Ghana
15 December 2017
16 December 2017
For additional press information/interview requests please contact Zanele Madiba on Zanele.Madiba@wits.ac.za / +27 (0)11 717 4672 OR Bonginkosi Mnisi on +27 (0)82 253 9921 OR Leonie Ogle on + 27 (0)73 858 2966.
For updates see Facebook page - Wits Drama for Life

Links:
www.dramaforlife.co.za/project...
www.goethe.de/southafrica
www.goethe.de/ghana
http://goethe-maputo.de

Social Media:
#AfriQueer has a substantial social media platform inclusive of:
Twitter: @Drama_for_life
Twitter: @dfl_AFRICA
Twitter: @AfricaQueer
Twitter: @FUCKmeQUEER
Instagram: @fmqsafely
Instagram: @AfricanQueer
High res visual reference:
https://www.dramaforlife.co.za...