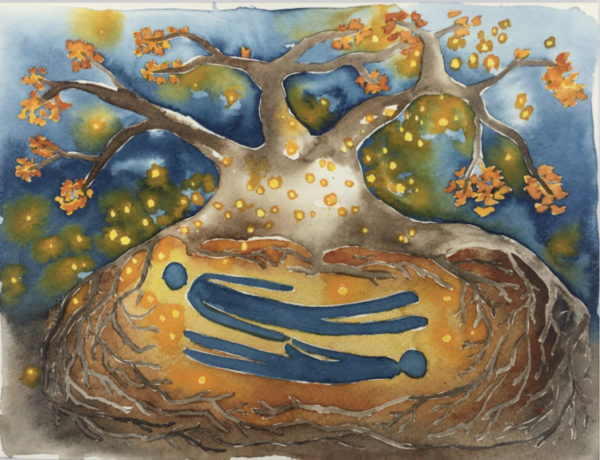 February 12, 12:00 PM E.T. ONLINE

"What is life? It is the flash of a firefly in the night. It is the breath of a buffalo in the wintertime? It is the shadow which runs across the grass and loses itself in the sunset."
- Crowfoot, Isapo-Muxika a chief of the Siksika First Nation. 1830 - 1890
lockdown is a play for children and their communities of caregivers. It is about loss and grief, prejudice and violence, fear and love. It is a play about the impact of violence on children, about children's innate relationship to the natural world's healing powers, and about how children's voices matter.
"lockdown is a perfect vehicle for actors and directors. Warren's dialogue and writing is fresh, concise, evocative and emotive…lockdown highlights for me the magic and faith that children have in the world and how they deal with trauma, how they find their own way of navigating the world. The play brings Mother Earth and all her creatures into our midst, and with her earthy magic and understanding…and we see the yearning for child play and escapism from a tragic event. lockdown is ethereal, emotional, empathetic and a true theatrical event. The healing through stories and theatre makes lockdown essential to our human experience." –
Gys De Villiers
Internationally acclaimed theatre, television and film actor
"This story is one great adventure between a child and his imagination while the rest of the world seems to have stopped. A must read, for parents together with their children. The author beautifully captures the very essence of innocence and draws you into the world of "anything is possible". Even in deep sorrow and grief. This is both a children's story as much as it is an adult's story, and a human one." -
Cherae Halley
Applied Drama and Theatre Practitioner International Playback Theatre Network Board Member Drama for Life Playback Theatre Co-director ]
WARREN NEBE (author). Award-winning theatre director, writer, registered arts therapist, educator. Fulbright Scholar, Salzburg Fellow, TedX speaker, founder of Drama for Life (www.dramaforlife.co.za).
Warren's roles have included Head and Director of Drama for Life, University of the Witwatersrand; Head of Theatre and Performance Studies, University of the Witwatersrand; Director of Themba Inter- active; Head of Maru-a-Pula Drama Department, Botswana; Arts therapist, Kenilworth Clinic, Cape Town; Psychiatric rehabilitation therapist, Interfaith Medical Hospital, New York.
Warren has facilitated and directed Kwanele, La Loba, Equus, Wolfboy, My Brother's Bones, Sephiri se Dule, Sophiatown, Crocodile Tears, Mainane!, Hayani, Closer, Morwa – the rising son, AfriQueer: How the Stars Were Made, Storytime! and When Things Fall Together.
The project was supported by the Embassy of Sweden (South Africa) and Arts Research Africa, University of the Witwatersrand.
Cast:
Margie Pankhurst: Auntie Maddie (South Africa)
Leila Henriques: Mom (South Africa)
Tefo Omhile Paya: Taio (Botswana)
Zane Gillion: Anbu (South Africa / USA)
Gys de Villiers: Stage Directions (South Africa / USA)
Buy tickets here:
https://www.seetickets.us/event/South-Africa-Lockdown-by-Warren-Nebe/451086